Discover the Best Time to Visit Lake Malawi
Megan Lewis | March 30, 2023
Pack your bags and get ready to experience Malawi between April and December, the months considered to be the best time to visit Lake Malawi.
Lake Malawi is the African adventure you need. It combines stunning natural beauty and an almost year-round balmy climate, cultural experiences that immerse you in local life, and barefoot luxury on Likoma Island when you stay with us at Kaya Mawa. The dry season, from May to October, is considered the best time to visit Lake Malawi because the weather is warm and dry, and there is very little rainfall. although the lodge does extend its open months because its position in a bay on Likoma Island affords it some shelter from wind.
Outdoor adventures in water & on land
Gorgeous weather prevails throughout these months, so you can expect to enjoy a lot of outdoor activities on the sandy beach, in the fresh water lake and in the hills on the island.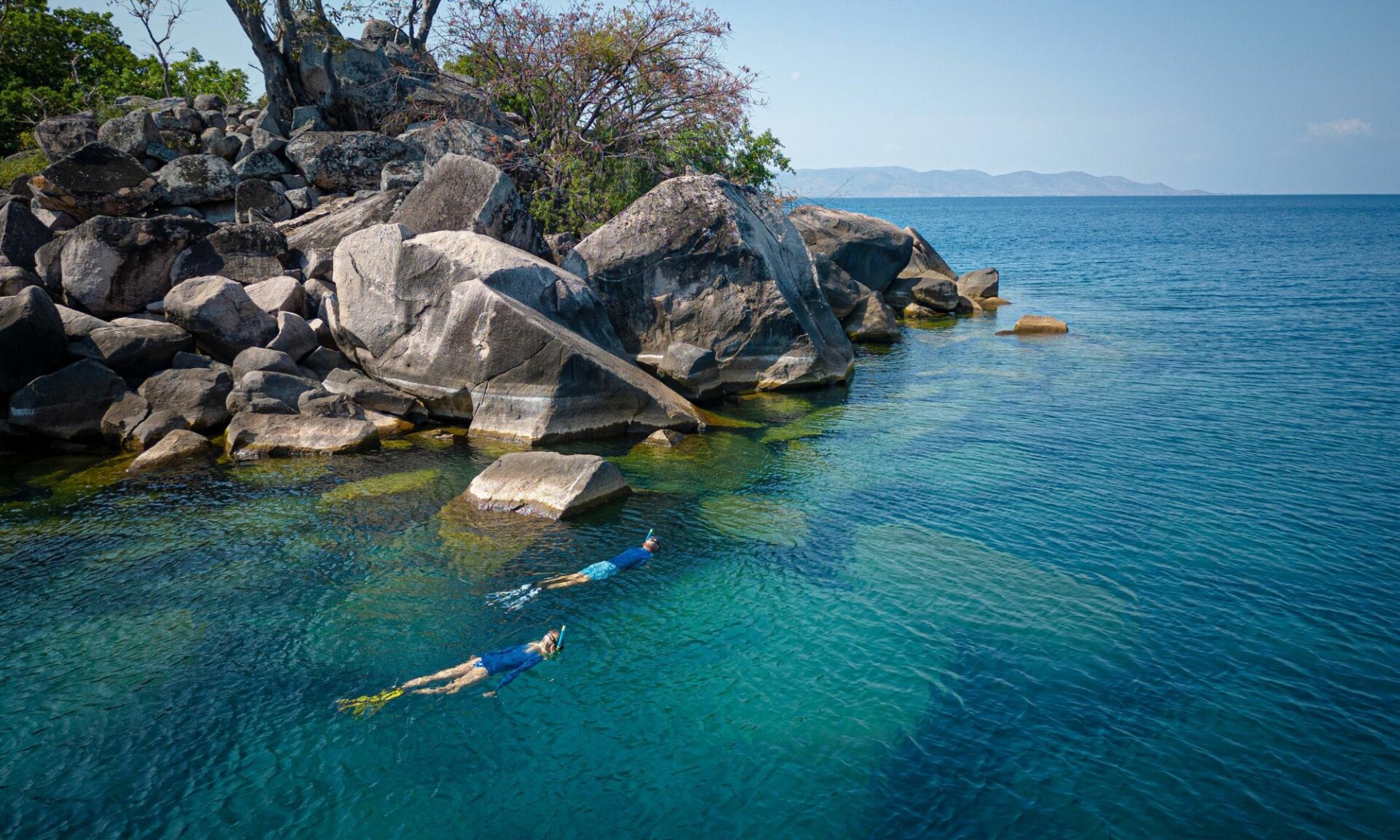 One of the most notable characteristics of Lake Malawi during the dry season is its crystal-clear waters. The lack of rainfall means that there is less sediment and debris in the water, making it exceptionally clear and perfect for underwater activities. Visibility can be up to 20 metres or more, which are ideal conditions for diving and snorkeling. The water temperature during this time is also pleasantly warm, making it perfect for swimming. Kaya Mawa offers a range of water activities, including kayaking, stand-up paddle-boarding, snorkelling and sailing.
Let the sun make your bike ride in the hills a little easier on an e-mountain bike; put your hiking boots on and get in touch with the island's fauna and flora along the paths. The dry season in Lake Malawi will have avid birders excited as it is also considered the best time time for birdwatching. Many of the more than 400 bird species are endemic to the region and you can also see migratory birds that travel from as far as Europe and Asia.
Local culture & history in town
While water activities are undoubtedly one of the main attractions on Likoma Island, there are plenty of other things to see and do on the island.
It might be hard to believe that Central Africa's largest cathedral, St Peter's Cathedral, has sat on the tiny island of Likoma since it was erected in the early 20th century. The cathedral and market area are in the centre of town, roughly 3 km (2 miles) from the lodge and it is worth taking a guided walking tour of the town to learn about the island's beautiful and historically significant buildings, like the Old Portuguese Fort and the Likoma Island Museum.
There are often local events and festivities happening on the shores of Lake Malawi and Likoma Island. If you're looking for a unique mix of contemporary cultural experience, plan your visit between July and August, when the famous *Lake of Stars Festival takes place. This three-day music and arts festival brings together local and international musicians and artists on the shores of Lake Malawi. These events include traditional dances, music performances, and festivals celebrating local customs and traditions.
*The Lake of Stars Festival has been on a break since the Covid pandemic hit Malawi. There is exciting news that it will make a comeback in 2024!
Rest & relaxation at Kaya Mawa
What goes best with adventure and exploration? Relaxation!
From arranging spa treatments and water activities to preparing delicious meals and cocktails, the Kaya team knows how to help guests get into the laidback island rhythm of the island. Although most don't need too much help! The gloriously balmy weather over these months means that the more relaxing outdoor activities are available most days. Think romantic sunset cruises, private picnics on secluded beaches, and even outdoor yoga or meditation classes. The pièce de résistance of relaxation is the Kaya Spa, where you can choose from a range of indulgent massages and beauty treatments – absolute bliss is found here!
So, why is the dry season the best time to visit Lake Malawi? The answer is simple – there is something for everyone when the temperatures are warm with little rainfall, water visibility is high, and local events happen during the mid-year holiday season.
Kaya Mawa opens in April, so you can have your African adventure on Lake Malawi – enquire with us here.