Meet The 'Tongabezi Handshake' Team Leaders
Natasha Parker | August 18, 2020
The Tongabezi Handshake Community Projects:
A Mukuni Community Farm,
by Zuwi Nawa – The Plant Whisperer (and Tongabezi Head Chef).

Zuwi is famous at Tongabezi for creating mouth-watering dishes and tantalizing desserts. But the food on your plate is only the final step of Zuwi's garden to table creation process…
As a chef, Zuwi is also very concerned with using the finest selection of ingredients. He has invested a lot of time in our impressive organic vegetable, fruit, and herb gardens at Tongabezi.
Zuwi is now going to take it a little step further by investing his time and skills, together with a team from Livingstone Island and Tongabezi, to teach the local community of Mukuni how to start-up their own gardens. The goal is to supply the village with fresh produce and in the long term sell to neighbouring lodges and hotels. We foresee a beautiful way to feed the community and enable a long term income for the people of this area.
After all, life begins the day you start a garden.
A 'Chicken in the Bush' Farm
by Agness Kamwi – The Mother Hen (and Tongabezi Human Resources Officer).

Agness is no stranger to farm life and villages. Some of her fondest memories involve spending time on her sister's farm when growing up. Being the Human Resources Officer at Tongabezi, she is also passionate about the wellbeing of our staff and their families and has therefore decided to lead a small team from Tongabezi into starting up a chicken coop on the property and also imparting these skills onto the staff.
We will be producing eggs for the lodge as well as for the nearby community which is quite isolated and far from gaining these supplies.
Let's not forget that eggs are deemed one of the most nutritional food sources – so let's get cracking!
The Reforestation Stations
by Thembi Mibenge — The Tree Hugger (and Tongabezi Restaurant Manager).
Growing up with soil underneath her fingernails was not an uncommon occurrence for Thembi, after all, she grew up with Legendary Uncle Ben. Uncle Ben gained fame in Livingstone for planting trees throughout the town, and for then watering and looking after each of them right up to this day!
Thembi has a deep passion for plants and was therefore extremely excited to head the team in a reforestation program in the nearby villages where trees have been chopped down and areas decimated for charcoal production.
A Naturalist guide and a small team of Tongabezi staff have identified 3 areas to focus on, and a selection of indigenous trees as well as fruit-bearing trees will be planted. People from the village will be educated on the environment and the effect that cutting down trees has on Mother Nature.
We will also be introducing more environmentally friendly grass stoves to be used in these communities to reduce the need for charcoal. We are wholeheartedly supporting Thembi being our tree ambassador and keeping Uncle Ben's legacy alive!
The Tongabezi Team needs your support in order to protect and empower our Tongabezi communities. 
If you would like to donate to these incredible causes, there are two possible ways!
1.) Donate securely and directly via Paypal: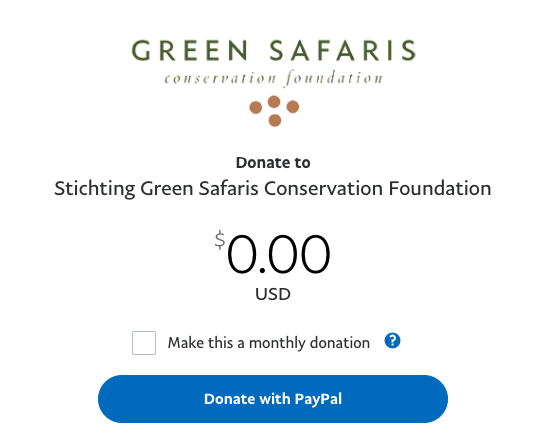 2.) Or, please do so to our registered charity bank account below:
NL30RABO 0322 3912 37 (BIC RABONL2U).
Green Safaris Conservation Foundation
Box 301
1400 AH Bussum
The Netherlands
Simply reference Mukuni 1, Chicken 2 or Trees 3 depending on which project you would like to support, and we'll be sure that your sponsorship goes to the correct initiative.
All funds are 100% committed to supporting our staff and running these initiatives! 
If you have any further questions, have a brilliant fundraising idea of your own, or would simply like more regular updates about the projects then do get in touch with natasha@greensafaris.dev.dedi419.flk1.host-h.net
Until we can shake hands again and check in with each other, we hope that you are safe, well, and happy, and that your daily decisions are driven by kindness.
With Love,
Team Tongabezi
Find out more about our Tongabezi Handshake Community Projects by visiting this blog article