What is a Silent Safari?
Megan Lewis | May 6, 2021
Our Green Team is guided by a deep love and a need to care for Africa's wild spaces, which is why we champion our sustainable Silent Safari experience through innovative 'green' technology, giving our guests a safari adventure with a low carbon footprint. 
We take being environmentally friendly very seriously. So seriously, in fact, that we developed the first-ever electronic Land Rover (we affectionately named it the 'e-Cruiser') in Zambia. Our e-Cruiser runs completely on solar power, instead of dirty diesel fuel, and has been a leading example of how creativity and a commitment to sustainability can create a safari experience that is kinder to Africa's pristine ecosystems… and more magical for our guests.
Silent Safari by Land Rover & Boat
Converting a traditional engine from relying on diesel or petrol to being electrically charged with solar-powered energy removes harmful emissions – and the guilt you might feel as an eco-conscious traveller – from the safari equation.
Using green technology like the e-Cruiser is an exceptionally powerful way to reduce our impact on the environment by significantly reducing our reliance on fossil fuels, which compromise the health of our wild spaces, wildlife and people. Since all of our properties are based in Zambia or Malawi, where sunshine is abundant throughout most of the year (even in Winter you can find yourself sweating through a 25 degree afternoon!) using solar power for more than just our game drive vehicles felt like a natural next step for our Green Team.
Enter the solar-powered boat, which now accompanies its four-wheeled companion at Ila Safari Lodge in Kafue National Park. Going electric, not only in our game vehicles but also in our cruise boat, also means that the sounds of nature no longer need to compete with the rough growl made by traditional engines. This then means that guests can get that much closer to the birds and wild animals, which are far more comfortable letting silent vehicles into their personal space without the din of a diesel engine to scare them off.
Silent Safari by Bike
In the sensitive ecosystem of the Busanga Plains in northern Kafue, our eBikes (together with the e-Cruiser) will be part of the sustainable Silent Safari experience at Chisa Busanga Camp, one of two newly built properties. Rather than 'lazy pedal bikes', the eBikes are similar to electric motorbikes in that they will allow guests to cover more ground with less energy and more speed – going up hills is a breeze!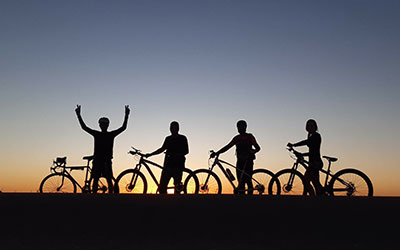 On Likoma Island in Lake Malawi, our eBikes are soon to be joined by electronic quad bikes. Our eQuads are going to turn a notoriously noisy mode of getting around into a silent ride that keeps all the fun of the four-wheeler. Kaya Mawa Lodge is all about balancing relaxation and adventure amidst the tranquillity of this tiny isle; doing so on a solar-powered bike (be it mountain or quad) not only preserves the peace and quiet on the island but also its air due to the zero-emission output.
Silent Safari by Foot
The legendary Norman Carr brought the idea of exploring the wilderness quietly and gently to the forefront of the safari imagination during the 1950s when he pioneered the walking safari in South Luangwa National Park.
Along with our signature e-Cruiser, our second brand new property, Shawa Luangwa Camp, keeps to this South Luangwa safari tradition of exploring the bush on foot. Another legend, Jacob Shawa, after whom the camp is named, is your guide during your sustainable Silent Safari in one of the world's greatest wildlife sanctuaries.
Silence (and Sleep!) is Golden
The Silent Safari experience is more than just getting around sustainably. It is also about staying and sleeping sustainably too. Because when you aren't exploring by electronic Land Rover, boat, bike, or your own two feet, the safari camp or lodge is your home in the bush.
Most of our properties run completely off solar farms, with cooking done by gas and lighting at night by solar power. Sindabezi Island is just one such example. This small camp in the Zambezi River, just upstream from Victoria Falls, uses sunshine energy to keep things running independently instead of using the main electricity grid. This means you can fall asleep under the African sky knowing that your travel footprint is further minimised through our dedication to sustainability and the green technology that helps make it possible.
Join us for a unique safari experience that reveals Africa's wilderness softly and silently, while still immersing you in luxury at one of our camps and lodges. Find out why Condé Nast Traveller puts Ila Safari Lodge on the green list of the best African safari camps with guest-funded conservation projects.